The Slipper Tongue
January 27, 2009


Print
The ironic story behind "The Slipper Tongue", Bush's favorite painting!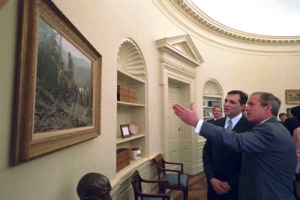 The title of George W. Bush's 1999 ghostwritten autobiography, A Charge to Keep, is associated with a favorite painting of the former President's, that was loaned to him by a childhood friend, Joseph I. O'Neill III, shortly after his 1995 inauguration as governor of Texas. Joseph 'Spider' O'Neill said the lead cowboy reminded him of Bush and the former governor claimed it as his own.
"I thought I would share with you a recent bit of Texas history which epitomizes our mission. When you come into my office, please take a look at the beautiful painting of a horseman determinedly charging up what appears to be a steep and rough trail. This is us."
Governor George W. Bush, memo to staff [1]
The painting followed George Bush from Austin to Washington, where it occupied a prominent place in the tour and talking points routine the President gave Oval Office visitors during his years in the White House [2].
"One of the paintings I selected for the Oval Office shows a man on horseback, leading a charge up a steep hill. His face is full of purpose and determination, and it is clear he expects to get the job done. The painting is called 'A Charge to Keep,' based on a Methodist hymn that's a favorite of mine.

I love the painting because it speaks to serving a cause that is greater than yourself. The picture reminds me every day that my most important job is to unite our country and provide leadership to overcome America's toughest challenges."

George W. Bush, 2004 campaign fund raising letter [3]
Bush loved to talk of his identification with the heroic struggle he saw in the illustration and the resolute determination of the nineteenth century circuit riding preachers who spread Methodism across the Allegheny region of the young American nation. Its title, he asserted, was "based upon a religious hymn….about serving God," a song written by Charles Wesley called 'A Charge to Keep I Have' [4].
Referring to Bush's fondness of the picture, David Gergen a longtime Presidential advisor and director of the Center for Public Leadership at Harvard's John F. Kennedy School of Government, commented:
Bush's personal identification with the painting, which now hangs in the Oval Office, reveals a good deal about his sense of himself as a political leader–who he thinks he is, the role he plays, and the centrality of his religious faith….His followers today tend to see in Bush what he sees in the painting: a brave, daring leader riding fearlessly into the unknown, striking out against unseen enemies, pulling his team behind him, seeking, in the words of Wesley's hymn, "to do my Master's will." They see him as a straight shooter and a straight talker. [5]
The painting was originally commissioned in 1916 by The Saturday Evening Post; which gave the job to William H.D. Koerner, a regular illustrator of popular magazine short stories in early twentieth century America. In 1912, it was Koerner that was picked to illustrate author Zane Grey's famous 'Riders of the Purple Sage'. In later interviews, W.H.D. Koerner and his daughter Ruth explained that the inspiration for his work came from immersing himself in the story and characters for which the illustration would be used:
"I try to draw the man the author describes…I concentrate on the character until it comes alive and I can see him in my mind's eye."

William Henry Dethlef Koerner, 'Yes We Read the Story', interview for The Saturday Evening Post; June 25, 1932 [6]
The painting was subsequently used in other short stories, including, in 1918, 'A Charge to Keep' in Country Gentleman magazine, a tale about a timberland inheritance and the responsibility it brought to protect its resources from the capitalist robber barons that were aggressively seeking to exploit its assets. But the character that lived in William Koerner's 1916 illustration was the one that rode in the 1916 Saturday Evening Post story, a tale called 'The Slipper Tongue'.
As with so many other positions embraced by our forty-third President, it might have been better had George W. Bush been a little less certain of his own point of view and a little more curious and inclined toward deliberate reflection in his decision making process. For what George W. is so certain is a depiction of a Methodist preacher resolutely 'leading a charge up a steep hill' that he proudly announced,
'When you come into my office, please take a look at the beautiful painting of a horseman determinedly charging up what appears to be a steep and rough trail. This is us';
turns out to actually be an illustration of a smooth-talking horse thief on the run, risking the welfare, and perhaps the life, of the mount he rides in a mad dash to try to escape the justice following close behind.
Bush's perspective exemplifies the decision making style that characterized his leadership of our nation. Starting from little research and continuing through little examination, based on his gubernatorial inauguration's use of Charles Wesley's hymn, 'A Charge to Keep I Have' and his friend 'Spider' O'Neill's offer to loan a painting he called 'A Charge to Keep', George W. choose to associate his work in public life with a reckless horse thief's attempt to evade justice.
slipper tongue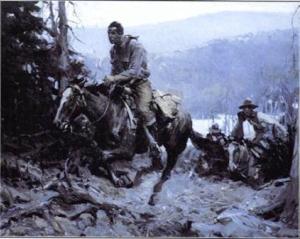 'Had His Start Been Fifteen Minutes Longer He Would Not Have Been Caught',
W.H.D. Koerner
The Slipper Tongue
1916
""This is us," said George W. Bush claiming autobiographical semblance to an illustration originally titled, 'Had His Start Been Fifteen Minutes Longer He Would Not Have Been Caught' [7].
It seems a fitting marker for the Bush presidency. Bush has consistently exhibited what psychologists call the "Tolstoy syndrome." That is, he is completely convinced he knows what things are, so he shuts down all avenues of inquiry about them and disregards the information that is offered to him. This is the hallmark of a tragically bad executive. But in this case, it couldn't be more precious. The president of the United States has identified closely with a man he sees as a mythic, heroic figure. In fact that man is a wily criminal one step out in front of justice.
Scott Horton, Esq.; Harper's Magazine, January 24, 2008 [8]
The philosopher Socrates once observed 'without reflection, there can be no experience'. That explains a great deal, for without thinking about our experiences, life becomes just a blur of events from which we take little opportunity to grow. Many are the qualities essential to leadership, especially leadership of a great nation. Discernment is indispensable and lacking that, we can better understand how the presidency of George W. Bush, among other things, left our nation floundering economically and on the horns of two wars; one unresolved in the land that Empires go to die, the other frivolous, wasteful, and based on deception.
As George W. Bush once said:
"I'm the master of low expectations… I'm also not very analytical. You know I don't spend a lot of time thinking about myself, about why I do things."

George W. Bush, June 4, 2003, on board Air Force One
REFERENCES:
[1] Horseshit! Bush and the Christian Cowboy, by Jonathan Hutson, TALK TO ACTION, May 12, 2006; http://www.talk2action.org/story/2006/5/12/7393/57216
[2] 45 Minutes with Bush, Kai Diekmann, The BILD Interview, May 5, 2006: http://www.counterpunch.org/diekmann05112006.html
[3] GEORGE W. BUSH, ART CRITIC, by Michael Horne, Milwaukeeworld Roundup, February 23, 2004; http://www.milwaukeeworld.com/html/horne/h-040223.php
[4] A CHARGE TO KEEP I HAVE, Words by Charles Wesley, Short Hymns on Se­lect Pass­ag­es of Ho­ly Script­ure, 1762; http://www.cyberhymnal.org/htm/c/h/chargkeep.htm
[5] Horseshit! Bush and the Christian Cowboy, by Jonathan Hutson, TALK TO ACTION, May 12, 2006; http://www.talk2action.org/story/2006/5/12/7393/57216
[6] Horseshit! Bush and the Christian Cowboy, by Jonathan Hutson, TALK TO ACTION, May 12, 2006; http://www.talk2action.org/story/2006/5/12/7393/57216
[7] A Charge to Keep, Wikipedia Encyclopedia; http://en.wikipedia.org/wiki/A_Charge_to_Keep#cite_note-horton-4
[8] The Illustrated President, by Scott Horton, HARPER'S MAGAZINE, January 24, 2008; http://www.harpers.org/archive/2008/01/hbc-90002237

Comments