"To every thing there is a season, and time to every purpose under the heaven: a time to be born, and a time to die; a time to plant, and a time to pluck up that which is planted; a time to kill, and a time to heal; a time to break down, and a time to build up; a time to weep, and a time to laugh; a time to mourn, and a time to dance; a time to cast away stones, and a time to gather stones together; a time to embrace and a time to refrain from embracing; a time to get, and a time to lose; a time to keep, and a time to cast away; a time to rend, and a time to sew; a time to keep silence, and a time to speak; a time to love, and a time to hate; a time of war, and a time of peace."
~ Ecclesiastes 3:18

This is the TRUE STORY of 2 men, and the love they shared with the lion they raised named Christian. It was touching to see the BOND that developed between them and the LOVE that had transcended all barriers. Christian was a remarkable lion, obviously very intelligent and loving, and gentle to everyone, both human and animal, but as Christian became too big, he had to be sent to Africa to live as a wild lion.. Would he recognize the two men after a whole year? How would he react having spent one year in the wilderness away from them? Can a bridge be built that encompasses all life?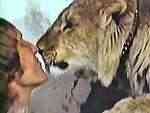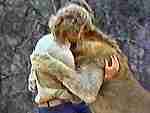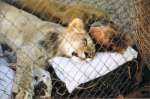 MORE PICTURES AND THE FULL STORY

and Putin's chic, 24 year old Alina Kabaeva, knows how to do it well! At the 2004 Athens Olympics Alina Kabaeva won the medal, but later in October she retired from the sport and has been a member of the Russian parliament since 2007. Latest gossip tells us she is very pro-Putin but he denies he secretly divorced his wife to marry Alina…

If you cant relate this to something in your life – a love, a god, a person, a moment, a memory – then ask yourself if you have yet lived…

INSPIRATIONAL VIDEO: The Secret (first 20 min)


"Humanity and all living things are Divine. We, and all other life on this planet are as tiny cells within something greater in which we move, live , and have our being" YouTube user

"I've missed more than 9000 shots in my career. I've lost almost 300 games. 26 times, I've been trusted to take the game winning shot and missed. I've failed over and over and over again in my life. And that is why I succeed"
"I've never been afraid to fail"
"I can accept failure, everyone fails at something. But I can't accept not trying"
"Some people want it to happen, some wish it would happen, others make it happen"
"I never looked at the consequences of missing a big shot… when you think about the consequences you always think of a negative result"
"Obstacles don't have to stop you. If you run into a wall, don't turn around and give up. Figure out how to climb it, go through it, or work around it"
~ Michael Jordan

GOOD FOR THE SOUL!
"Make me a channel of your peace" is a prayer of St. Francis and it is sung by Angelina. The video is filmed in the hometown of the great St. Francis in Assisi, Italy.
"Above all the grace and the gifts that Christ gives to his beloved is that of overcoming self."
"Start by doing what's necessary; then do what's possible; and suddenly you are doing the impossible."
"Where there is charity and wisdom, there is neither fear nor ignorance. Where there is patience and humility, there is neither anger nor vexation. Where there is poverty and joy, there is neither greed nor avarice. Where there is peace and meditation, there is neither anxiety nor doubt."
"For it is in giving that we receive."
"No one is to be called an enemy, all are your benefactors, and no one does you harm. You have no enemy except yourselves."
~ St. Francis of Assisi